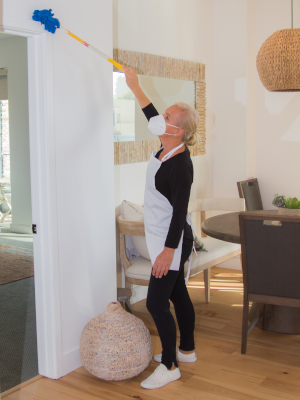 At times, it may feel impossible or just extremely difficult to keep your home or business clean for long. Dust settles quickly, and it doesn't take much time for people to track in dirt or for your bathrooms to become unsanitary. That's why regular cleaning is so important. By having cleaning services scheduled on a weekly or biweekly basis, you can ensure your family or customers and employees can enjoy a clean environment.
Maintaining a clean and comfortable indoor environment isn't just important; it's easy when you trust reliable cleaning experts to take care of it on a regular basis. Whether it's your home or business that needs regular cleaning, our team at San Diego Housekeeping Corp. is more than prepared to handle it. Using custom cleaning products and proven processes, we will ensure your home or business is spotless by the time we are finished with it. Leave it to us to take care of everything from vacuuming and mopping floors to dusting furniture, wiping down countertops, and more.
In addition to enjoying our high-quality, thorough cleaning services, you can trust that your cleaners will treat you and your property with respect. We're proud to have background-checked team members who are qualified, professional, and friendly. You can feel good about letting us into your home or business, and we'll do our best to make sure you maintain the same cleaners each time when you are happy with their work.
We would love to opportunity to provide you with regular cleaning in San Diego, California. Contact us today to request a free cleaning estimate.